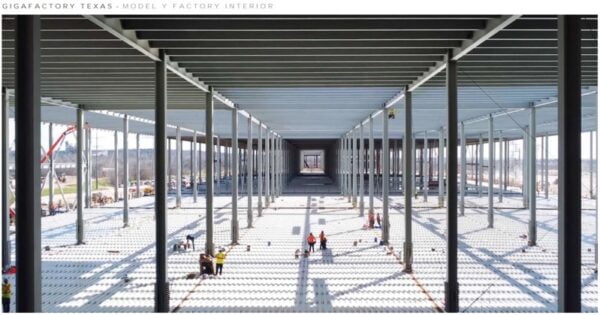 In a new video from YouTube channel Terafactory Texas, we can see drone footage of Tesla's Gigafactory Texas as it nears completion. Among some of the more developed features, the video shows most of the paint shop's temporary roof having been removed, as well as the near completion of the building's west-facing wall.
In addition, the most significant developments in the area are the construction site's courtyard pit, which includes newly-poured mud slabs and concrete, as well as the inclusion of rebar squares. Tesla has also brought in more of the concrete boxes seen in recent weeks, which will be used to fill out the courtyard area.
Tesla has also made significant progress on its Bobcat Project area, which was confirmed to be getting a new facility, according to filings discovered early Friday.
We also recently got a peek at a new bridge crane, which arrived at the site and was installed in an update late last month.
While Tesla's Cybertruck production is rumored to be beginning in June, perhaps lining up perfectly with the Texas Gigafactory's completion, Cybertruck prototypes have already been spotted driving around the Austin site.
Tesla Product Designer Javier Verdura also confirmed in recent weeks that the company is working on a diecast Cybertruck model.
Contributing Writer at TeslaNorth.com from California's southeast Bay Area. Covers electric vehicles, space exploration, and all things tech. Loves a good cup of coffee, live music and puppies. Buying a Tesla? Click here to get 1,000 free Supercharging miles.