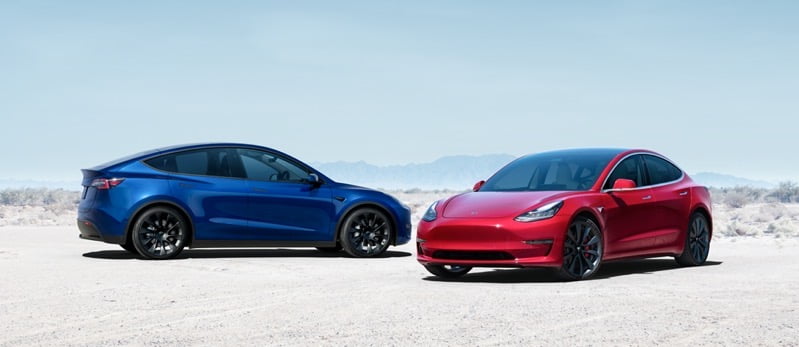 Tesla's Model 3 once again topped overall new car sales in Europe during March, with a total of 23,013 units registered across the region — reports JATO Dynamics.
The Model Y was close behind in third place for new car sales with 18,968 units sold for the month. The Model Y ranked second for battery electric vehicle (BEV) sales, with the Model 3 in first place.
Model 3 sales were down 3% year-over-year from the 23,758 units that were registered in March 2021, but that dip seems relatively insignificant given that the European automotive market as a whole slumped 19% from 1.37 million new registrations in March 2021 to just 1.12 million in March of this year.
Quarterly new car registrations were down 10% year-over-year from 3.05 million units in Q1 2021 to 2.73 million in Q1 2022 — the lowest seen since 1985.
A growing disparity between the demand and supply of new cars has contributed to the drop in new vehicle registrations in Europe, but so has the fallout from Russia's ongoing invasion of Ukraine.
"Although Ukraine is not a large market for European car exports, with a small market relative to its population, it remains to be an important source of vehicle parts for major European OEMs," said Felipe Munoz, Global Analyst at JATO Dynamics.
Last month, legacy Germany automaker Volkswagen was forced to delay its ID.5 EV to May after the war cut off the company's supply of wiring harnesses and other "key" electronics components from Ukraine.
Another likely explanation for the Model 3's (slightly) lower sales is the growing popularity (and availability) of the Model Y in Europe. Last month, Tesla started delivering Model Ys directly from its European Gigafactory in Berlin-Brandenburg, Germany.
The Model 3 was the top-selling EV in Europe for the entirety of 2021. That said, the Model Y is starting to overtake the Model 3 in many markets, and even topped global EV sales earlier this year in February. Both cars dominated EV sales in the U.S. for the first quarter of this year, with the Model Y in first place.
In what is good news for the electric revolution, BEVs and plug-in hybrid electric vehicles (PHEVs) together outsold diesel-powered cars in Europe during March, with 244,801 registrations as opposed to 202,113 new diesel-powered vehicles.
BEVs and PHEVs saw a cumulative volume increase of 10% in the month, and accounted for 22% of all new vehicle registrations in the region.