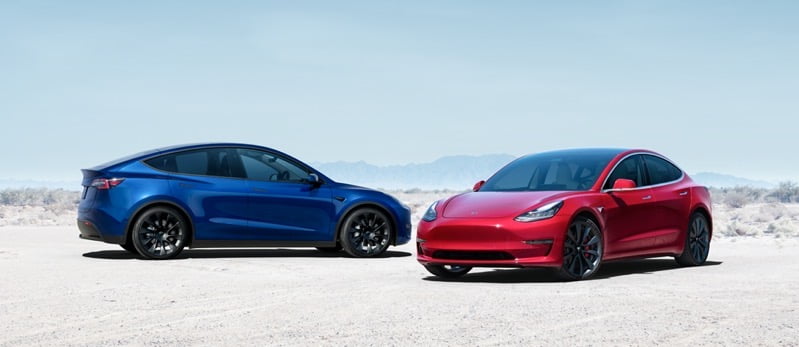 Tesla's Model Y was the best-selling electric vehicle (EV) in the U.S. for the first quarter of this year, followed closely in second place by the Model 3 — reports Kelley Blue Book.
EV sales in the U.S. almost doubled year-over-year from Q1 2021 to Q1 2022, with battery electrics making up over 5% of all cars sold in the country for the first time this quarter.
Competition in the EV space is heating up, and Tesla's rear-view mirror is starting to get crowded. In the first quarter of 2021, Americans only bought 18 different EV models. They had 32 different models to choose from in the first quarter of this year, and more are on the way.
However, competitors still have a lot of ground to cover. Tesla sold a whopping 46,707 Model 3s in the U.S. between January and March, while the third best-selling EV — Ford's Mustang Mach-E — only sold 6,734 units in the same period.
Despite growing competition, Tesla still saw its market share rise from 70% of all EVs sold during Q1 2021 to 75% in Q1 2022.
The Model Y and Model 3 alone commanded a cumulative 68% of the U.S. EV market for Q1. The top 10 best-selling EVs in the U.S. during Q1 were:
Tesla Model Y
Tesla Model 3
Ford Mustang Mach-E
Tesla Model X
Hyundai Ioniq 5
Kia EV6
Tesla Model S
Nissan Leaf
Kia Niro
Audi e-Tron
Tesla delivered a record 310,048 cars during Q1 2022, reporting $18.7 billion USD in revenue and $3.3 billion in net income for the quarter. The EV pioneer's financial results left Wall Street "speechless," while the Model Y and Model 3 conquered auto markets across the globe. The two EVs even managed to top overall new car sales in the U.K. for March.
What's more, Tesla was also the most-discussed EV maker on social media during Q1 2022. Looks like the company doesn't need a marketing department after all.