Starting May 1st, 2022, Tesla has started charging drivers of leased vehicles in Europe for Premium Connectivity in their cars (via @tesla_adri).
"Premium Connectivity provides the ability to access all connectivity features over cellular, in addition to Wi-Fi," Tesla explains in an email recently sent to drivers of leased vehicles in Europe, where the company launched leasing options for the Model Y late last year.
"By continuing with Premium Connectivity, you will be able to access features that require data usage—including streaming music and media, live traffic visualization and more."
Up until now, drivers of leased Teslas have often enjoyed free Premium Connectivity since there was no practical way to charge them for it. However, it looks like Tesla has worked out how payments for the feature will work for leased vehicles.
Tesla sending out this email to drivers of leased vehicles in Europe.

Up until now Premium connectivity was often free for leased vehicles, since there was no way to charge the driver. Seems like Tesla figured it out and drivers need pay for premium connectivity starting may 1st pic.twitter.com/B0VukFbg9i

— Tesla_Adri (@tesla_adri) April 30, 2022
"Starting May 1, 2022, Premium Connectivity will require a paid subscription of £ 9.99 per month unless you are still in your trial period," reads the email from Tesla.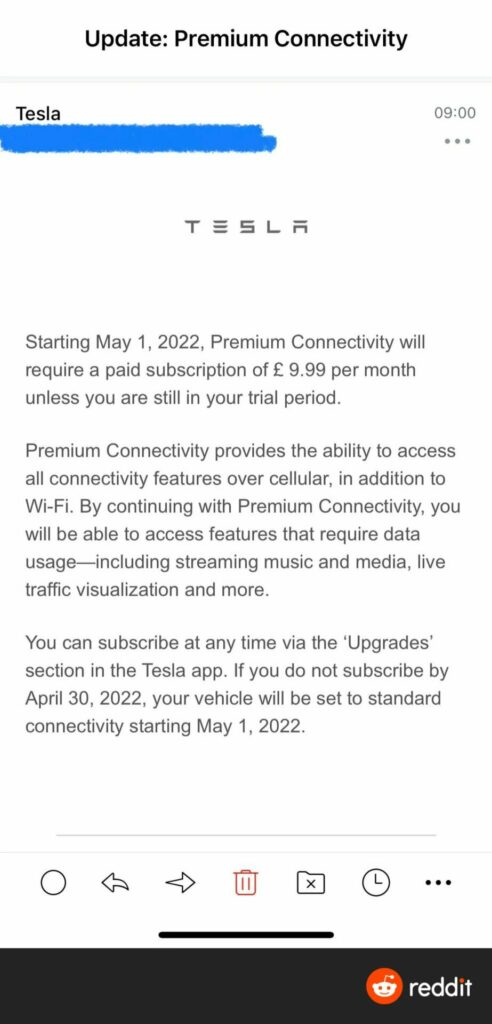 To subscribe to Premium Connectivity, simply head to the 'Upgrades' section in the Tesla app. Tesla owners can also subscribe to Premium Connectivity right from inside their car — a functionality that was added in November of last year.
Drivers of leased Teslas who don't subscribe to Premium Connectivity will be switched over to Standard Connectivity on May 1.
Back in February, Tesla launched a yearly Premium Connectivity plan for $99 USD.