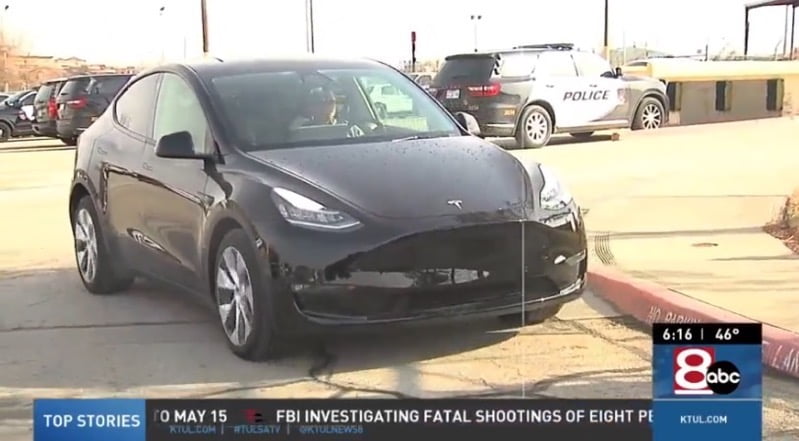 Broken Arrow Police in Oklahoma are set to add a Tesla Model Y Long Range to its cruiser fleet.
According to KTUL, Broken Arrow Police say the Tesla Model Y has a higher cost upfront, but savings will come from gas and less maintenance costs.
"The initial purchase price is a bit more. It's quite a bit more, it's $52,000, but we're spending a lot less on maintenance and fuel for the vehicle because the fuel is electricity. After about four years, it pays for itself," said offers Chris Walker.
Walker says offers drive 100 miles per day, but the Long Range Model Y has a stated range of 326 miles, so in essence running out of range won't be an issue.
The new Model Y also brings speed as well. Broken Arrow police note the fastest vehicle in its fleet can do 0-60 in six seconds. The Tesla Model Y can achieve that in 4.8 seconds (KTUL says 3.5 but that's for a Performance Model Y, which costs more than $52,000 USD).
Tesla recently opened up one of its first service centers in Oklahoma, a mere three miles away from the Broken Arrow police department, which may help pave the way for more electric vehicles in its fleet from Tesla.
"If it's a long-term cost savings measure, awesome. Especially one that will handle the duties that we put it through. We're not exactly easy on vehicles," said Walker.
The new Tesla Model Y is being funded by the Broken Arrow police department's portion of the Sales Tax Capital Improvement Fund.
Broken Arrow police join other forces to add a Model Y to their fleet, including Logan City in Ohio; Hastings-on-Hudson in New York; Ipswich, Massachusetts; and Seaside in California, to name a few.