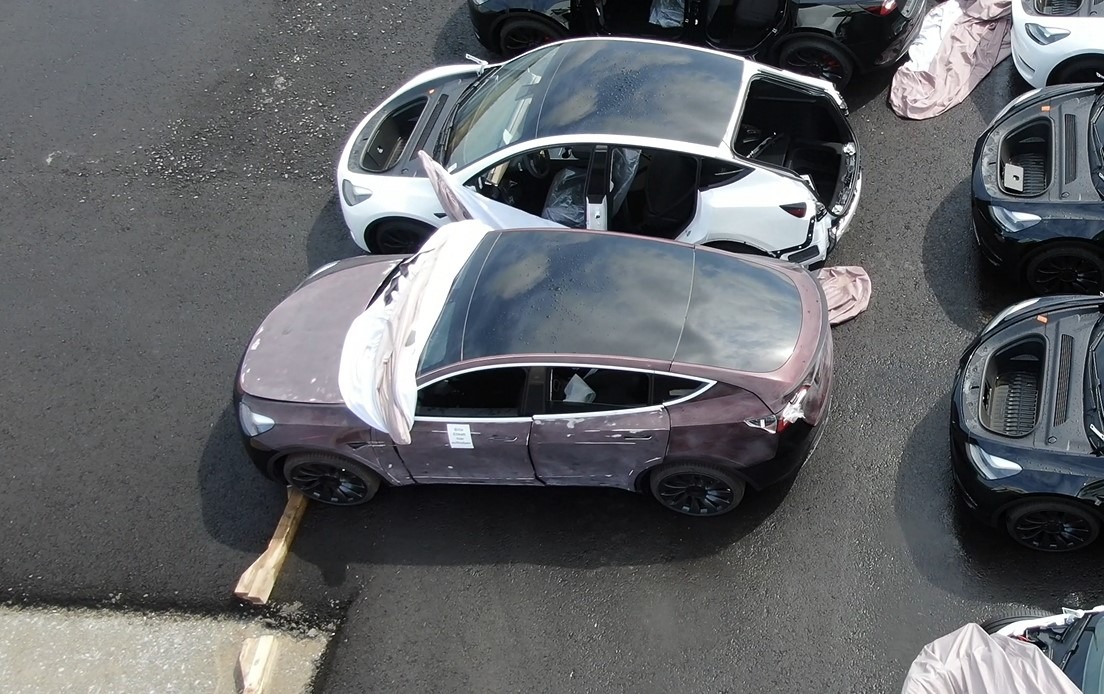 A Tesla Model Y with the new "Deep Crimson Multicoat" was recently spotted outside Gigafactory Berlin-Brandenburg among a bunch of units that look like they're waiting to be scrapped. Deep Crimson is one of the three new colorways that will come out of Giga Berlin's paint shop.
The test unit is visible at the 20-minutes-and-18-seconds mark in a recent drone flyover video of Giga Berlin from YouTuber Tobias Lindh. You can check out the full video below:
According to Lindh, Tesla has completed the production upgrades it started at Giga Berlin earlier this month. The plant was taken offline while Tesla made the upgrades.
Trial production is now underway at the facility to test the new manufacturing processes, and the factory has already built at least one Model Y with a single-piece front casting. Giga Berlin has also produced a Model Y with a single motor Real-Wheel Drive configuration and another with a white interior.
The on-site paint shop, meanwhile, has reportedly been paint-testing vehicles in Deep Crimson Multicoat and Mercury Silver Metallic. Tesla has been teasing the former for quite some time now. This recent test may be a sign that Tesla is preparing to launch the new colors soon.
Gigafactory Berlin hit a production milestone last month, assembling 1,000+ cars per week for the first time. Tesla has upgraded assembly lines and production processes at the plant to scale production even higher.
In its Q2 2022 earnings report, Tesla pegged Giga Berlin at an annual production capacity of more than 250,000 units.