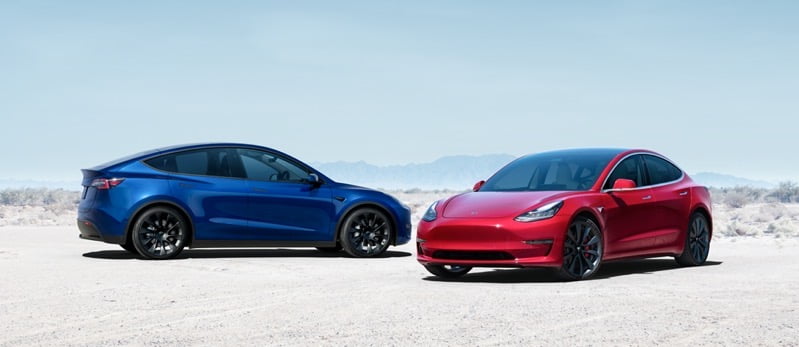 Newer Tesla Model 3 and Model Y vehicles include a heat pump in their HVAC system for cooling and heating. Now, we're again hearing about heating issues in extremely cold climates with Tesla's heat pump—but this time around, the company is telling customers it's a "firmware" issue.
Numerous Model 3 and Model Y owners have shared their cold weather experiences with no heat in their Tesla, and also the response from the automaker.
Below are two replies from Tesla, after owners reached out for support via the company's mobile app (the only way to get support aside from visiting a service center).
Tesla told Joseph W. from the Model Y Owners Club on Facebook the following:
Greetings from Tesla. We are currently reviewing your heating concern and have confirmed this is a known firmware concern related to extreme cold climates. A fix is currently being developed by the software engineering team, and there is no ETA on the firmware version fix. Please keep your vehicle connected to WIF| so your Tesla can download the latest version as it becomes available. Can you confirm that your heating operation is intermittent, for example the heat will come on then goes off but will eventually recover and work correctly, usually after parking the vehicle in a warmer area? In addition, please set your Climate to "auto" (Auto button should be blue in full Auto mode) and only adjust the set temperature to your comfort level as this is the most efficient heating/cooling setting. If these are the symptoms please let us know, as an in-person service visit may not be required. Thank you.

[…]

This is a firmware issue is currently under investigation by Tesla as it was recently discovered due to the recent extreme cold climates. There will be improvements with future firmware update as it is currently being developed. Current mitigations are to precondition vehicle 30 minutes to 60 minutes prior to departure, use recirculating air mode and use auto mode. Symptoms may still occur when driving in climates -15C and below. If heat does not return please park vehicle in a warmer location and allow vehicle to warm up. We are sorry for the inconvenience as an in person service visit is not required your appointment has been closed. Please let us know if you have any additional questions.
At a very basic level, a heat pump efficiently extracts warm ambient air to provide heating. But there are limitations to climate conditions and for those living in extreme cold in both Canada and the USA, it can be challenging for any heat pump to provide heating during recent cold snaps.
So how to fix heat not working in your Tesla Model 3 or Model Y? Try the following fixes according to Tesla:
Set climate to Auto and set a comfortable temperature
Use recirculating air mode
Pre-condition your car while plugged in 30-60 minutes before your departure
Park car in a warmer location such as a garage to allow it to warm up
Reboot vehicle and try again (hold down both steering wheel buttons)
Tesla says "symptoms can occur in climates -15C (5F) and below".
Back in February of this year, Tesla was proactively replacing sensors on Model Y vehicles as the latter was causing heat to not work in cold climates.
Later in March, Tesla issued a worldwide service bulletin to fix these refrigerant/temperature sensors in the heat pump that "can fault over time" in Model 3 and Model Y vehicles.
Are you experiencing any heat issues in your Tesla Model 3 or Model Y? Let us know if any of these fixes suggested by Tesla are able to restore heat for you.