Reddit user u/motofanka shared close-up photos of Tesla's refreshed Model S on Thursday, from a sighting in Kettleman City, California. The photos, as shared on the Tesla Motors subreddit, show close-ups of the seats and front interior of the Model S, as well as a picture depicting the electric vehicle's (EV's) front exterior cameras.
Some users pointed out how much further the front exterior cameras stick out on Tesla's refreshed Model S, which, for some reason, includes some masking tape on either side in this particular photo.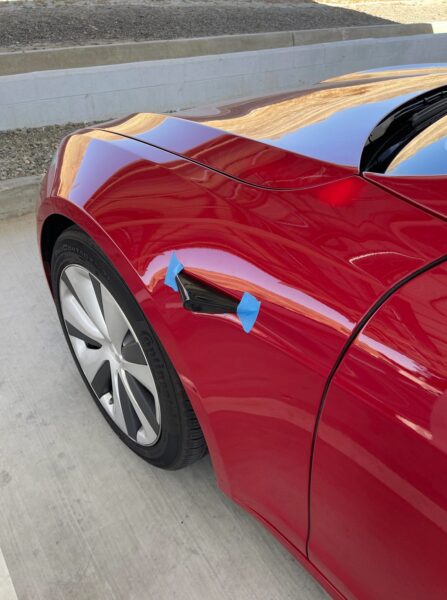 The user also captured pictures through the window of the Model S unit's interior, with a particular focus on the sleek, beige seat fabric, and the yoke steering wheel beside the center console. The seats are also ventilated and are able to produce air when running the A/C, as can be noted from the upholstery's porous material.
One user posited that the masking tape, as well as a partially missing dashboard and door, could mean that this is simply a prototype test vehicle, rather than a production copy of the Model S. Still, other Model S production units have been spotted driving around North America throughout the past few months.
Tesla is expected to start delivering its Model S refresh soon, alongside version 11 of its software.
Recently a 2009 Tesla Model S prototype was spotted in an LA museum, and if you thought the differences between last year's Model S and this year's refresh, a decades-worth of differences will blow your mind.
Contributing Writer at TeslaNorth.com from California's southeast Bay Area. Covers electric vehicles, space exploration, and all things tech. Loves a good cup of coffee, live music and puppies. Buying a Tesla? Click here to get 1,000 free Supercharging miles.