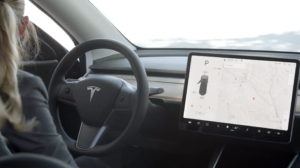 A report Tuesday posited that Tesla's use of software is what gives the electric vehicle (EV) company such a fiscal advantage over legacy automakers, according to Loup Ventures' Gene Munster (via Reuters).
When it comes to Tesla's software, the EV giant certainly has its bases covered – between over-the-air (OTA) updates, subscription-based software features like Full Self-Driving (FSD), internet connectivity, and its Supercharger network, the company is estimated by Munster to recognize up to $1.1 billion (USD) in deferred software revenue in 2021. In addition, this is before considering that the company delivered record numbers of EVs across the world in 2020, and is ramping up to do the same in 2021.
Incoming! Gotta love software updates! pic.twitter.com/eZkINf7Nvk

— TeslaFSD? – aka Dave (@TeslaFSD) December 9, 2020
OTA updates are a model Tesla has utilized since 2012, and it is believed that legacy automakers are at least 3-5 years away from offering anything in OTA software within the same ballpark.
One might add that Tesla, following a business model not unlike Apple's Tim Cook, has a major advantage due to its move to service-based revenue, especially having so many cars now on the road. This creates the potential for the company to charge owners of every single Tesla currently on the road on an ongoing basis, depending on their choice of high-profit margin services like FSD, Autopilot, internet connectivity, and other features still.
Tesla's deferred software revenue is expected to increase to $1.5 billion in 2022, and Munster predicts that traditional automakers will still be a few years away from OTA software updates by that point.
Speaking of software updates, Tesla's highly anticipated holiday software is rumoured to drop in the next week, which CEO Elon Musk previously hyped up with fire emojis.
Contributing Writer at TeslaNorth.com from California's southeast Bay Area. Covers electric vehicles, space exploration, and all things tech. Loves a good cup of coffee, live music and puppies. Buying a Tesla? Click here to get 1,000 free Supercharging miles.