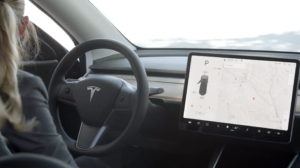 In recent weeks, Tesla's Full Self-Driving (FSD) beta has become available to a limited number of Tesla owners, and the results have the internet in flames (in a good way, we think). Unfortunately, however, some Tesla owners in the United Kingdom do not have the opportunity to partake in the fun.
While current regulations do not allow FSD, a petition addressed to the United Kingdom's parliament is seeking 10,000 signatures to remove the EU's UN/ECE R79 regulation, which places a ban on Tesla's Autopilot, FSD, as well as other driver-assistance systems, as reported by the UK Parliament site (via Reddit).
The description of the petition cites the fact that Tesla vehicles with Autopilot engaged are considered up to 9 times less likely to be in an accident. While different methods of standardization do exist, Tesla's Autopilot has been considered much safer than having no driver-assistance engaged whatsoever in various assessments, and the software is only improving with increases in data due to the FSD beta release.
Honda Plans to Be First Mass Producer of Level 3 Autonomous Cars https://t.co/0oXqqCn3Op

— Tesla North (@RealTeslaNorth) November 13, 2020
The petition started against the UK parliament has yet to take off, but hopefully, as companies prove the reliability and safety of their autonomous driving products, government regulations will continue to allow these products to benefit the lives of their consumers.
While Honda was recently approved for Level 3 autonomous driving in Japan, Tesla's FSD system is only a Level 2 autonomous driving system. However, as FSD and other driver-assistance systems continue to evolve over the next several years, it will be fascinating to see where the technology of autonomous driving ends up.