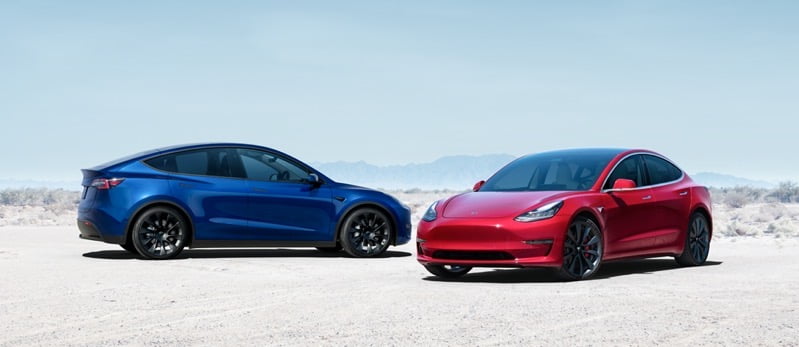 We've been hearing more about some Tesla Model 3 and Model Y customers in extreme cold climates, dealing with no heat issues, related to their vehicle's heat pump. 
While Tesla service has told customers an upcoming software update is coming to address the no heat problem, one Model Y customer in Toronto is getting their heat pump replaced altogether, covered under warranty.
According to Jimmy, on the Tesla Model Y Canadian Group on Facebook, he explained on Tuesday, "over the weekend I did lose heat in Toronto with -15C, regained it back after a quick visit to the Supercharger. After I unplugged and drove off…heat was gone again."
"Got to my destination, I left the car alone and went inside, before departure again I decided to "defrost car" before leaving and of course heat was working fine," said Jimmy.
Next, he submitted a work order to Tesla via the company's mobile app and "got a response pretty quickly and was told to bring it in today."
He then shared screenshots of his Tesla repair work order, covered under warranty on his 2021 Model Y, delivered back in December. "Look at what needs to be done below, and make sure you check out the total cost if it wasn't under warranty," explained Jimmy. "Don't get me wrong, I still love my Tesla and the service team at Railside in Toronto is top notch," he concluded.
The no heat fix for his particular Model Y, consists of replacing refrigerant pressure/temperature sensors, the A/C line from the supermanifold to compressor, and the A/C compressor itself (heat pump).
The total cost for parts worked out to be $3,355 CAD and work labor charged at $1,659 CAD. After 13% tax in Ontario, the final total came to $5,665.81 CAD ($4,510 USD), covered by Tesla under warranty (the invoice payment type is categories as "goodwill – service").
Others chimed in on Facebook to say they had a similar full heat pump replacements on their Model Y vehicles last winter as well, and one owner claimed they were on their fourth replacement. Many worried about owning a Tesla with a heat pump out of warranty, due to the high cost of replacing the heat pump system, should issues continue to arise.
The fix for Jimmy's Model Y will take a week and he was provided a loaner Model S in the meantime.
Are you dealing with no heat in cold climates with your Model 3 or Model Y with heat pump? What has the solution been from Tesla?
Tesla CEO Elon Musk responded to a thread by Canada's Tesla Owners Online (@Model3Owners), who described what the company is doing now to address the heat pump issue, even testing cars in Alaska. The heat pump is supposed to work in climates beyond -30C (-22F). This was information was shared from the Saskatoon Tesla Owners Club to Twitter by @Model3Owners.
"One of the observed causes of a climate failure that has been diagnosed is the front air intake flap freezing open, and blasting cold air into the system when driving on the highway, which is preventing the heat pump system ability to work correctly," said @Model3Owners.
"The cold air passes by a sensor, and tells the climate system it's failing, and then you get the famous error, and the compressor just stops. One of the things they're potentially going to do with software as a quick win is allow the compressor/system to keep working, even if the flap is not functioning properly. And of course they're trying to figure out how to prevent this in the first place," added @Model3Owners.
Tesla techs recommended "ensuring the black grill on the front of your car is clean and clear, as snow/ice build up there can cause the flap to not open/close properly," added @Model3Owners.
A software update is underway and its release is unknown at this point, but it is seen as a priority update.
FYI: information regarding the heat pump issues some are facing in extreme cold. From Saskatchewan Tesla Owners club: @elonmusk

— ⚡️Tesla Owners Online (@Model3Owners) January 12, 2022
Great explanation!

— Elon Musk (@elonmusk) January 12, 2022