Yilan Supercharger, Taiwan; image credit: @TeslaOwnersTwn
Tesla recently launched two new Superchargers in Taiwan, as new V3 stalls in Yilan and Taipei went live earlier this week.
According to Tesla Owners Taiwan, the club tells Tesla North both Superchargers went live on January 14, 2021.
You can see the Yilan Supercharger with six stalls above and pictures of the Taipei Supercharger with the same number of V3 stalls below, shared with Tesla North: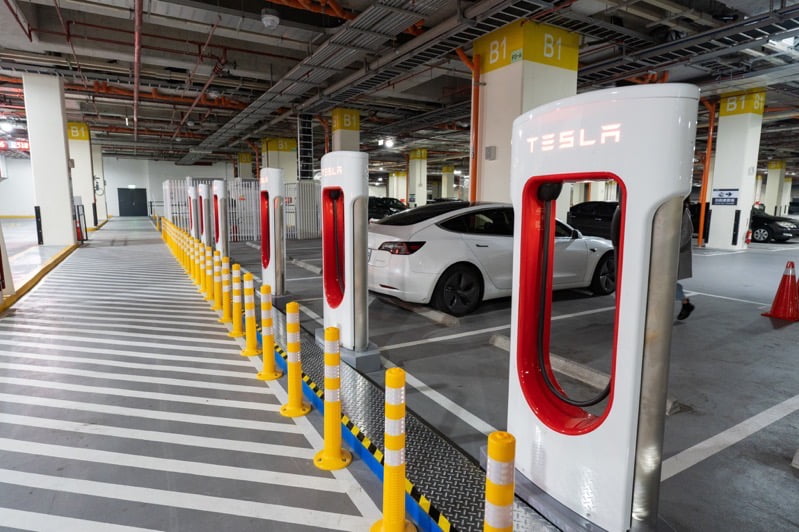 The Tesla Owners Taiwan club started two years ago and as of December, had 2700 Tesla VINs registered with the club, according to the club's president (all Teslas in Taiwan are imported from Fremont, California). Expect these numbers to grow once Model Y eventually reaches the island.
The Yilan Supercharger is located at 宜蘭市女中路一段279號 (No. 279, Section 1, Nuzhong Road, Yilan City).
As for the Supercharger in Taiwan's capital city of Taipei, it's located at:
南港展覽館2館
台北市南港區世貿二路二號

Taipei Nangang Exhibition Center Hall 2
No. 2 Jingmao 2nd Road, Nangang District, Taipei City Taiwan
Recently, the Tesla Owners Taiwan club met up with @TeslaJoy's visit to Taiwan last month, and visited Tesla's headquarters in Neihu, Taipei, which you can see below:
Tesla's website lists 24 Superchargers in Taiwan as available, but there are 18 future locations listed as coming soon.