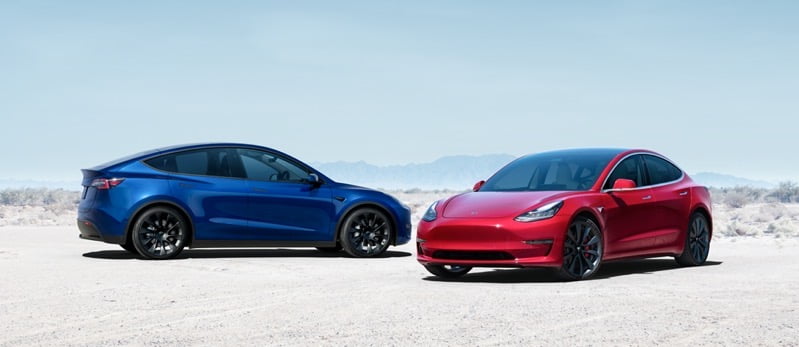 Yesterday we showed you videos of Tesla's Model Y receiving top marks from the National Highway Traffic Safety Administration (NHTSA), getting 5-stars in all categories.
On Wednesday, Tesla has acknowledged its Model Y safety achievement and has explained in detail "what makes Model Y safe?".
Tesla says the NHTSA tested a Model Y Long Range All-Wheel Drive (AWD), and noted it expects the same safety rating across all versions of its SUV, including Standard Range Rear-Wheel Drive (RWD) and Performance AWD.
As for what makes the Model Y safe? Tesla says its thanks to the shared platform of the SUV based on the Model 3.
"To accommodate its higher mass and larger cabin space as an SUV, Model Y's body structure is fortified and strengthened even further than Model 3 in pursuit of its 5-star safety rating," explains Tesla.
"At its core, in the event of a collision, Model Y is engineered to distribute crash forces around the cabin and away from vehicle occupants, greatly reducing the risk of injury. Our front and rear crumple zones and optimized side structures enable Model Y to manage crash energy very efficiently, reducing accelerations on the vehicle and, more critically, its occupants," adds the company in a blog post authored by The Tesla Team on January 13, 2021.
Tesla also says the Model Y's structure "now includes the world's largest casting," plus a fortified battery pack. "These elements mitigate intrusion into the cabin, creating a robust safety cell with enough room for our advanced restraint systems to deploy and provide even more occupant protection," says the company.
Tesla says the Model Y rollover risk is "the lowest of any SUV recorded to date by the organization," at just 7.9%. This is due to the low centre of gravity of the Model Y and other Teslas, thanks to the hefty battery pack and motors placed low in vehicles.
"Safety is at the core of every Tesla vehicle, and Model Y benefits from years of immense passion for vehicle safety," explains Tesla.
"By providing the most advanced equipment and technologies, our goal is to help customers prevent avoidable accidents whenever possible, and, when they are not avoidable, to help mitigate injury to the fullest extent possible. Indeed, we believe Model Y to be among the safest vehicles available to consumers on the road," concludes the company.
The Model 3 was one of the safest cars ever made. Now, the Model Y has matched the smaller sedan and also exceeded it, according to Tesla when it comes to safety.