Tesla CEO Elon Musk announced at its 2020 Battery Day event a $25,000 USD electric vehicle would be coming in the next three years. This smaller Tesla has been imagined as a compact of sorts, and Musk himself said Giga Berlin would design and produce this new, original model.
Traditional automakers such as Volkswagen and Renault plan to launch the compact ID.3 and Mégane ZE by the end of 2021, with range about 330 km and priced at about $38,000 EUR before incentives. Will a future Tesla compact be able to beat these apparent rivals from legacy auto?
According to Auto-Moto, it believes this will be possible should Tesla debut its compact, possibly named a 'Model 2' by 2023-2024. A compact Tesla using the company's new 4680 battery cell technology should be able to offer a range of up to 600 km, estimates the site, while guessing a Performance version would offer the equivalent of 400 horsepower.
Auto-Moto also shared a few concept images of a 'Model 2' for Europe, a smaller five-door sedan compact. Check out the renders below: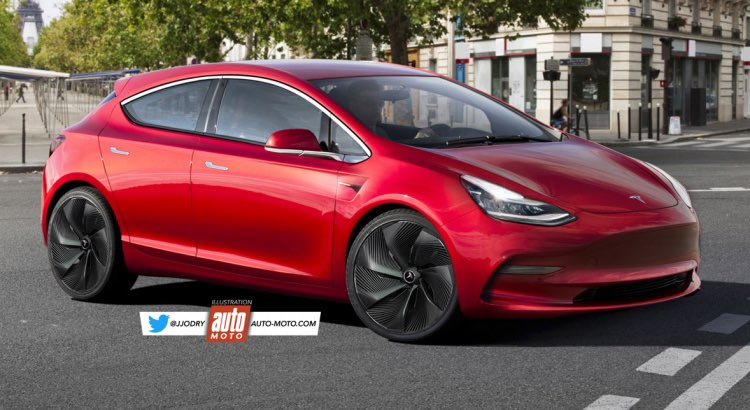 The site says it believes a 'Model 2' interior would be based on a refined interior of Tesla's current Model 3.
In late November, Musk said online at the European Battery Conference a compact Tesla for Europe would be designed and built in Germany at Giga Berlin.
"I think there's just a lot of talent and talented designers and engineers in Europe of course, and I think for a lot of the best people, they really want to work somewhere where they're doing original design work," said Musk last month.
"They don't want to be just doing just the European version of something designed in California. So I think it's important to attract the best talent to do original design," explained the Tesla CEO.
"And I think possibly in Europe it would make sense to do, I guess, a compact car, perhaps a hatchback or something like that…and something like what do most people want in a given region," added Musk.
Are you excited at the prospect of a more affordable Tesla compact in the new few years? Now we do know there is such a thing as 'Elon time', so any smaller Tesla may take more than a few years to emerge, but the idea definitely is exciting for shifting the masses towards sustainable transportation.