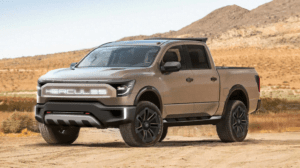 Tesla is the only zero-emission vehicle brand that has an entire lineup dedicated to electric cars. As other companies scramble to get their zero-emission vehicles out on the road, it will be interesting to see which traditional car companies stick the landing, and which don't.
Nissan is reportedly looking to electrify its Titan pickup truck within the next few years, according to Bloomberg. The Japanese automaker is considering buying powertrains and other parts from a Detroit-local electric vehicle (EV) startup called Hercules Electric Vehicles, in an ongoing, strategic partnership.
The Nissan Titan will reportedly spawn a fully-electric variant in the coming years with battery technology sourced from the Hercules Alpha. Additionally, the pickup truck could be offered with over 300 miles of electric range. #Nissan #Titan #Hercules #Alpha pic.twitter.com/8O3ygJwoUE

— Cole Marzen (@cole_marzen) November 20, 2020
While the companies are still just in talks and no deal has yet been signed, the two will arrive on a busy scene of EVs-to-come, especially if it takes them a few years for the rubber to hit the road. Still, if the two can successfully mass-produce an electric Nissan Titan, it could be a huge step forward for Hercules, and a lucky break for auto giant Nissan, who currently only has one EV, the Nissan Leaf, available for purchase.
As the world continues to accelerate forward into the territory of zero-emission vehicles, some companies will survive the transition while others won't. It'll be interesting if Nissan can deliver on an electric Titan that can take on Tesla's Cybertruck and other EV competitors.
Contributing Writer at TeslaNorth.com from California's southeast Bay Area. Covers electric vehicles, space exploration, and all things tech. Loves a good cup of coffee, live music and puppies. Buying a Tesla? Click here to get 1,000 free Supercharging miles.