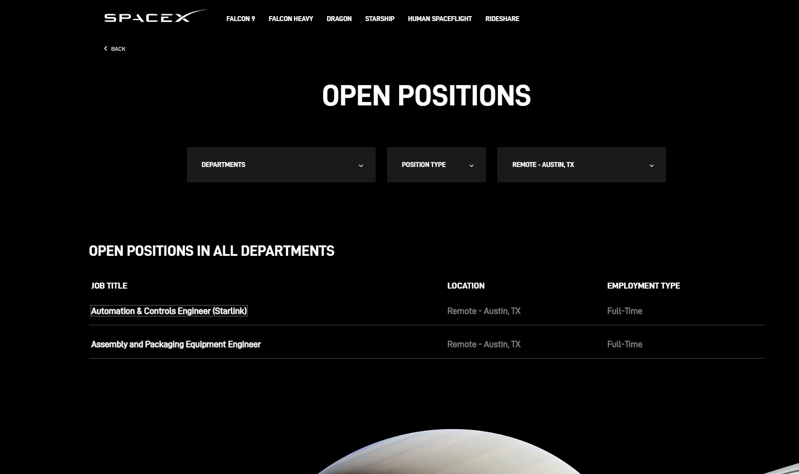 It now appears SpaceX is planning to build a manufacturing facility in Austin, Texas, according to a new job posting, reports KXAN (via CNBC).
"To keep up with global demand, SpaceX is breaking ground on a new, state of the art manufacturing facility in Austin, TX," reads the job posting.
The factory is being made for "high volume manufacturing," related to "millions of consumer facing devices."
SpaceX's Starlink satellite internet service requires an antenna with mounting hardware, plus wireless router for customers to use the service.
Current Starlink satellites for its space constellation are being made Redmond, Washington, at the rate of up to 120 satellites per month.
Earlier on Wednesday, SpaceX CEO Elon Musk said he was going to be "creating the city of Starbase, Texas", without specifying any details.
Creating the city of Starbase, Texas

— Elon Musk (@elonmusk) March 2, 2021
Currently, Starlink internet is in beta, available to those in the U.S., Canada and the UK, but also quickly expanding elsewhere. SpaceX says it plans to launch worldwide coverage by year's end and also double download speeds to up to 300 Mbps.
Starlink internet service costs $99 USD per month, plus requires a $499 hardware kit to connect to the satellite network, currently aimed at those in rural areas.
SpaceX plans to launch another batch of 60 Starlink satellites this Thursday, taking its constellation to over 1,100 in space. Currently, anyone can sign up for the internet service by going to Starlink.com.